Day 1 :
Keynote Forum
Technical University of Munich, Germany Tulane University, USA
Time : 09:10-09:50

Biography:
Eckhard U Alt is a Professor at Technical University of Munich, Germany, Tulane University New Orleans LA, and Chair at Sanford University SD. He completed his Medical Degree as Valedictorian at Heidelberg Medical School. From 2001 to 2007, he was President of
International Cardiac and Electrophysiology Society
. He has authored more than 500 publications. His innovative spirit is demonstrated by more than 700 patents, primarily in the fields of Stem Cells, Electrophysiology and Interventional Cardiology. He introduced several new therapies to clinical practice, such as Rate-adaptive Pacing, Defibrillators, Treatment of Atrial Fibrillation and Stem Cell Treatment that have substantially influenced the practice of medicine. He won Hahn Research Award from
European Society of Thoracic Surgery
.
Abstract:
Despite revascularization and improved drug therapy, some patients with post myocardial infarction experience a critical loss of functional myocardium leading to remodeling and progression towards heart failure. As the heart is a terminally differentiated organ, renewal and replacement of dead myocardial cells occurs through the intrinsic regenerative potential situated in every organ. As recent research has revealed, the regenerative power of pluripotent stem cells is located throughout the body in small vessels, these cells are able to differentiate into all of the three germ layers. In addition, in every organ we find so-called progenitor cells, which in the heart also constitute the reserve army to replace dying myocardial cells. In light of heart failure with increased ischemia and the survival rate of myocardial cells is significantly reduced, representing an increased turnover and challenge to the stem cells located within the heart. As the ability for stem cells to divide is limited to about 50 to 70 divisions by the telomeres, the regenerative potential in a heart can be exhausted and the functional consequence is a replacement of parenchyma (cardiomyocyte) by fibrous tissue (mesenchyme). Up to now the global understanding why and how cardio myocytes can be replaced is controversial and by most physicians, scientists, and patients obscured. However, the principal of universal stem cells within the body allows obtaining stem cells from one organ, which is not critical such as adipose tissue, to isolate those stem cells and to apply them to the organ in need. The local microenvironment guides the new stem cells through a differentiation program and enables cells to obtain the properties of new cardiomyocytes that completely integrate and synchronize with existing myocardium. The mechanisms of differentiation follow exactly the embryonic differentiation pass way. Hence, it is possible to renew cardiomyocytes by autologous, early stem cells such as the ones that can be retrieved from the stroma of adipose tissue. The mechanism and epigenetic steps of differentiation including results on myocardial regeneration will be presented.
Image: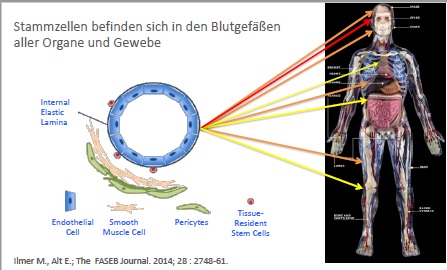 Stem cells reside in virtually all post-natal organs and tissues.
References :
1. Valina, C., Pinkernell, K., Song, Y. H., Bai, X., Sadat, S., Campeau, R. & Alt, E. (2007). Intracoronary administration of autologous adipose tissue-derived stem cells improves left ventricular function, perfusion, and remodelling after acute myocardial infarction. European heart journal, 28(21), 2667-2677.
2. Sadat, S., Gehmert, S., Song, Y. H., Yen, Y., Bai, X., Gaiser, S., ... & Alt, E. (2007). The cardioprotective effect of mesenchymal stem cells is mediated by IGF-I and VEGF. Biochemical and biophysical research communications, 363(3), 674-679.
3. Bai, X., Yan, Y., Song, Y. H., Seidensticker, M., Rabinovich, B., Metzele, R., ... & Alt, E. (2009). Both cultured and freshly isolated adipose tissue-derived stem cells enhance cardiac function after acute myocardial infarction. European heart journal, ehp568.
4. Song, Y. H., Gehmert, S., Sadat, S., Pinkernell, K., Bai, X., Matthias, N., & Alt, E. (2007). VEGF is critical for spontaneous differentiation of stem cells into cardiomyocytes. Biochemical and biophysical research communications, 354(4), 999-1003.
5. Alt, E., Yan, Y., Gehmert, S., Song, Y. H., Altman, A., Gehmert, S., ... & Bai, X. (2011). Fibroblasts share mesenchymal phenotypes with stem cells, but lack their differentiation and colony‐forming potential. Biology of the Cell, 103(4), 197-208.
6. Bai, X., & Alt, E. (2010). Myocardial regeneration potential of adipose tissue-derived stem cells. Biochemical and biophysical research communications, 401(3), 321-326.
7. Bai, X., Ma, J., Pan, Z., Song, Y. H., Freyberg, S., Yan, Y., ... & Alt, E. (2007). Electrophysiological properties of human adipose tissue-derived stem cells. American Journal of Physiology-Cell Physiology, 293(5), C1539-C1550.
8. Bai, X., Yan, Y., Coleman, M., Wu, G., Rabinovich, B., Seidensticker, M., & Alt, E. (2011). Tracking long-term survival of intramyocardially delivered human adipose tissue-derived stem cells using bioluminescence imaging. Molecular Imaging and Biology, 13(4), 633-645.
9. Ilmer, M., Vykoukal, J., Boiles, A. R., Coleman, M., & Alt, E. (2014). Two sides of the same coin: stem cells in cancer and regenerative medicine. The FASEB Journal, 28(7), 2748-2761.
10. Alt, E., Pinkernell, K., Scharlau, M., Coleman, M., Fotuhi, P., Nabzdyk, C., ... & Song, Y. H. (2010). Effect of freshly isolated autologous tissue resident stromal cells on cardiac function and perfusion following acute myocardial infarction. International journal of cardiology, 144(1), 26-35.
11. Alt, E. U., Senst, C., Murthy, S. N., Slakey, D. P., Dupin, C. L., Chaffin, A. E., ... & Izadpanah, R. (2012). Aging alters tissue resident mesenchymal stem cell properties. Stem cell research, 8(2), 215-225.
Keynote Forum
University Children Hospital, Latvia
Time : 09:50-10:30

Biography:
Aris Lacis is a Cardiac Surgeon and Professor. He completed his MD, PhD and Graduation at Riga Medical Institute. He was a General and Thoracic Surgeon at P. Stradina University Hospital in Riga (1964-1969); Thoracic and Cardiac Surgeon at Latvian Centre for Cardiovascular Surgery (1969-1994). From 1994-2012, he was the Head of Pediatric Cardiology and Cardiac Surgery Clinic at University Children's Hospital, Riga and; since 2012, he has been a Consulting Professor of this Clinic. He is a Vice President of Latvian Society for Cardiovascular Surgery and; President of Latvian Association for Pediatric Cardiologists. He is an Author of 395 scientific publications, three monographs and 13 patents. He is an Investigator in more than 10 clinical trials including cardio surgical procedures performed under deep hypothermia and hybrid procedures etc.
Abstract:
Context: The promising field of regenerative medicine is working to restore structure and function of damaged tissues and organs. The adult heart represents an attractive candidate for cell-based technologies. While there is a wealth of preclinical and clinical data showing the safety, feasibility, and efficacy of stem cells in adults with acute myocardial infarction and heart failure, less is known about possible implementation of stem cell therapy in infants and children with heart failure due to dilated cardiomyopathy and pulmonary arterial hypertension. The challenges facing cardiac stem cell therapy are multiple. There are uncertainties around the destiny of stem cells after their injection into the blood stream. In particular, it regards migration and homing of implanted cells in the target tissues. As yet unclear is the possible role of sympathetic nervous system in the context of osteoreflexotherapy. There is still no definitive answer to the question on which is the preferred type of stem cells to be used for transplantation in different settings. Since 2008, when we first used autologous bone marrow-derived mononuclear cells (BM-MNCs) in patient with acute myocardial infarction, we have investigated the use of stem cells not only for myocardial regeneration in adults and pediatric patients, but also in adult patients with diabetes mellitus and osteoarthritis.
Aim: Aim of this study is to determine the role of BM-MNCs in management of wide spectrum of pathologies, including critically ill pediatric patients, adult patients with acute myocardial infarction & heart failure and adult patients with osteoarthritis.
Design, Settings & Participants: Two patients (9 and 15 years old) with trisomy 21 and severe pulmonary arterial hypertension due to uncorrected large ventricular septal defects received intrapulmonary BM-MNCs implantation. Radionuclide scintigraphy showed improvement of lungs vascularization during 36 months follow-up. Seven patients (four months–17 years) with dilated idiopathic cardiomyopathy received intra myocardial BM-MNCs injections. During follow-up (up to seven year), we observed improvement of left ventricular ejection fraction (LVEF), decrease of left ventricular end diastolic dimension by echocardiography and cardio-thoracic index at chest X-ray exams, reduction of serum brain-natriuretic peptide serum levels and decrease of the stage of heart failure from stage IV to stage I, by NYHA classification. No peri-procedural harmful side effects were observed. We performed BM-MNCs intracoronary infusion in 101 adult patients with acute myocardial infarction with reduced LVEF and in 14 patients with chronic heart failure. Our results showed statistically significant improvement in LVEF at 12 months. We also infused BM-MNCs to the pancreas directly via branches of splenic artery or superior pancreaticoduodenal artery; we have performed single intra-articular BM-MNCs injections in 70 patients with knee or hip joint osteoarthritis (stage II–III). No adverse effects after the BM-MNC injection were observed. Preliminary analysis showed decrease in pain and other symptoms and statistically significant improvement by clinical scoring system using different questionnaires.
Conclusions: The results are promising and we suggest that BM-MNCs might be used for the stabilization of the adult and pediatric patients to improve symptoms and outcomes or serve as a bridge for heart or lung transplantation or delay joint replacement surgery. It also could be recommended in cases if other more traditional treatment options fail or contraindicated.
Break:
Networking & Refreshment Break: 10:35-10:50 @ Foyer
Keynote Forum
Fuwai Hospital & Cardiovascular Institute, China
Time : 10:50-11:30

Biography:
Wei Hua is a Professor of Cardiology, Deputy Director at Cardiac Arrhythmia Center, Fuwai Hospital & Cardiovascular Institute, Chinese Academy of Medical Sciences, Peking Union Medical College, China. He completed his MD at Shanghai Medical University in 1985 and then PhD at Graduate School of Peking Union Medical College. He joined Fuwai Hospital & Cardiovascular Institute in 1985 and became full Professor of Cardiology in 1999. He was trained in Cardiac Pacing and Electrophysiology in Royal Melbourne Hospital, Australia, from 1994-1996. His main work is on "Clinical cardiac pacing and electrophysiology, cardiac arrhythmias service". He is now Vice Chairman of Chinese Society of Pacing and Electrophysiology (CSPE) and Chairman of Cardiac Pacing Committee of CSPE. He is a Fellow of Heart Rhythm Society (FHRS), European Heart Rhythm Association (EHRA) and New York Academy of Sciences.
Abstract:
Statement of the Problem: Clinical trials have demonstrated that cardiac resynchronization therapy (CRT) is effective in patients with non-ischemic cardiomyopathy. However, patients with dilated-phase hypertrophic cardiomyopathy (DHCM) have been generally excluded from such trials. We aimed to compare the clinical outcome of CRT in patients with DHCM, idiopathic dilated cardiomyopathy (IDCM) or ischemic cardiomyopathy (ICM).
Methodology & Theoretical Orientation: A total of 312 consecutive patients (DHCM=16; IDCM=231; ICM=65) undergoing CRT in Fuwai hospital were studied respectively. Response to CRT was defined as reduction in left ventricular end-systolic volume (LVESV) ≥15% at six-month follow-up.
Findings: Compared with DHCM, IDCM was associated with a lower total mortality [hazards ratio, HR: 0.35 (95% confidence interval, CI 0.13-0.90)], cardiac mortality [HR: 0.29 (95% CI 0.11-0.77)] and total mortality or heart failure (HF) hospitalizations [HR: 0.34 (95% CI 0.17-0.69)], independent of known confounders. Compared with DHCM, the total mortality, cardiac mortality and total mortality or HF hospitalizations favored ICM but were not statistically significant. [HR: 0.59 (95% CI 0.22-1.61); HR: 0.59 (95% CI 0.21-1.63); HR: 0.54 (95% CI 0.26–1.15) respectively]. Response rate to CRT was lower in the DHCM group than the other two groups although the differences didn't reach statistical significance.
Conclusion & Significance: Compared with IDCM, DHCM was associated with a worse outcome after CRT; the clinical outcome of DHCM patients receiving CRT was similar to or even worse than that of ICM patients. These indicate that DHCM behaves very differently after CRT.


Image:



REFERENCES:
1. Hua W, Zhang LF, Wu YF, et al.( 2009) Incidence of sudden cardiac death in China: analysis of 4 regional populations. J Am Coll Cardiol. Sep 15;54(12):1110-8.
2. Yi-Zhou Xu, Yong-Mei Cha, Dali Feng, Wei HUA, et al.( 2012) Impact of Myocardial Scarring on Outcomes of Cardiac Resynchronization Therapy: Extent or Location? J Nucl Med 2012; 53:47-54
3. Hua wei. (2010)Cardiac resynchronization therapy for chronic heart failure in China:guideline and practice(Editorial).Chinese Medical Journal ,123(17): 2293-2294.
4. HUA Wei, HONGXIA Niu, XIAOHAN Fan, et al. (2012) Preventive Effectiveness of Implantable Cardioverter Defibrillator in Reducing Sudden Cardiac Death in the Chinese Population: A Multicenter Trial of ICD Therapy versus Non-ICD Therapy. JCE, 2012, 23(S1): S5-S9
5. HUA Wei, WANG Dong-mei, CAI Lin, et al. (2012) A prospective study to evaluate the efficacy of an intracardiac electrogram-based atrioventricular and interventricular intervals optimization method in cardiac resynchronization therapy. Chinese Medical Journal. 2012, 125(3): 428-433