17th European Heart Disease and Heart Failure Congress
London, UK

Gabriele Monasterio Foundation, Italy
Title: A case of misdiagnosed cardiomyopathy with rising plasma MMP9 long before sudden cardiac arrest
Biography
Biography: Annamaria Vianello
Abstract
Introduction: Out-of-hospital cardiac arrest in the absence of structural heart disease is rare and can be due to subclinical cardiomyopathy or primary electrical disorders. Adverse collagen remodeling may occur in cardiac arrest patients; MMP-9 is proven to help risk stratification.
Clinical Case Description: In 2005, R.R, a 35 year old metal-worker, surprisingly began to show high values of MMP9. TIMPs, MMP2, NT-pro-BNP and all the other laboratory tests, abdominal echography, electrocardiogram and echocardiography were within the reference range. 10 years later, R.R suddenly collapsed at home; his wife promptly began a successful cardiac massage, supported by territorial tele-emergency network. R.R was admitted to the intensive unit with frequent ventricular extrasystoles, left ventricular dysfunction. Medical history of his family includes sudden death of two paternal uncles; mother with Takotsubo syndrome. Unremarkable clinical examination and electrocardiogram showed no biochemical evidence of acute myocardial infarction; CRP elevation. Un-obstructed coronary arteries on coronary were revealed in angiography. Chest X-ray showed mild interstitial fibrosis. There were no signs of arrhythmogenic cardiomyopathy on Cardio-NMR.
Discharge Diagnosis: Discharge diagnosis was: "Resuscitated cardiac arrest, in subject without evidence of structural heart disease, treated with ICD bicameral system".
Reviewing Clinical Information & Diagnosis: Familial histories of sudden death, mild endocardial irregularities, left ventricle enlargement, reduced ejection fraction, low EKG voltage are suggestive of familial cardiomyopathy. Welding, chest X-ray fibrosis, RCP is suggestive of welder's lung. Then, reformulated diagnosis: Resuscitated cardiac arrest in sub-clinical familial cardiomyopathy, chronically subjected to professional cardio-toxic damage.
Conclusions & Implications for Clinical Practice: R.R lethal arrhythmia was firstly considered as "idiopathic" in nature, since process laboratory and radiology testing were not analyzed properly. Interestingly, long before cardiac arrest, MMP9 had begun to rise, announcing a cardio-pulmonary adverse remodeling. The case of R.R teaches us that early biomarkers such as MMP9, correct and timely diagnosis, tele-medicine and emergency services network could really save lives of patients at high risk of sudden death.

Image: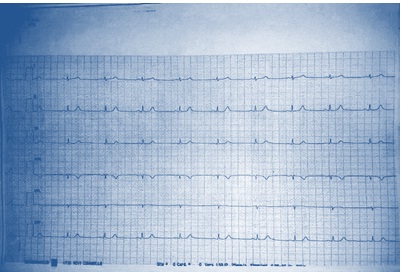 Figure 1: Low EKG voltage on peripheral leads
References:
1. Flevari P, Theodorakis G, Leftheriotis D, Kroupis C, Kolokathis F, Dima K, Anastasiou-Nana M, Kremastinos D (2012) Serum markers of deranged myocardial collagen turnover: their relation to malignant ventricular arrhythmias in cardioverter-defibrillator recipients with heart failure. Am Heart J 164 (4):530-537.
2.Turkdogan KA, Zorlu A, Guven FM, Ekinozu I, Eryigit U, Yilmaz MB (2012) Usefulness of admission matrix metalloproteinase 9 as a predictor of early mortality after cardiopulmonary resuscitation in cardiac arrest patients. Am J Emerg Med 30(9): 1804-1809.
3. Hästbacka J, Tiainen M, Hynninen M, Kolho E, Tervahartiala T, Sorsa T, Lauhio A, Pettilä V (2012) Serum matrix metalloproteinases in patients resuscitated from cardiac arrest. The association with therapeutic hypoyhermia. Resuscitation 83(2): 197-201.
4.Fang AC, Cassidy A, Christiani DC (2010) Systematic Review of Occupational Exposure to Particulate Matter and Cardiovascular Disease. Int J Environ Res Public health 7: 1773-1806.
5.Schiff GD, Hasan O, Kim S, Abrams R, Cosby K, Lambert BL, Elstein AS, Hasler S, Kabongo ML, Krosnjar N, Odwazny R, Wisniewski MF, McNutt RA (2009) Diagnostic error in medicine: analysis of 583 Physician-Reported Errors. Arch Inter Med 169(20): 1881-1887.